Rescue and family building work that brings happiness and joy to North Texas homes happens every day thanks to an organization in Carrollton. Local animal shelter and non-profit organization Operation Benevolence uses an impressive array of resources to provide second chances to thousands of pets in the region, with the organization having already helped facilitate more than 2,900 adoptions this year.
Muppet, a kitten cared for at Operation Kindness.
To call Operation Kindness simply a local shelter is to underestimate the uniqueness of how it operates. The nonprofit goes beyond the standard call of a shelter in more ways than one, starting with its service area.
"We actually have a very wide range. Operation Kindness works with over 70 different rescue partners and other city agencies that have animals," said Natalie Buxton, Director of Marketing and Communications at Operation Kindness. "We also work with some in Waco and Austin, Oklahoma and Louisiana. Some of our biggest partners are some of the big shelters in the area like Dallas Animal Services.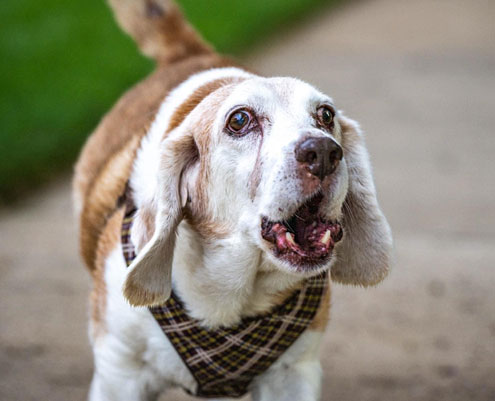 Jake, a 19-year-old beagle who was 10 when he was adopted by one of Operation Kindness' frequent North Texas Giving Day supporters.
Buxton explained that Operation Kindness, which is a no-kill shelter, frequently receives animals from other shelters in the area that experience overcrowding. It also receives sick or injured animals thanks to perhaps its most unique feature: a full-service veterinary clinic.
"In any given month, they do about 1,200 medical checkups at the shelter through this animal hospital," Buxton said, adding that the clinic sees about 140 animals on any given day. "We have three full-time vets on staff who work with the animals here in our care."
Buxton explained that the hospital can handle everything from serious illnesses to medical operations with surgical suites, isolation wards, an X-ray room and an oxygen generator among its available resources.
"We're ready to do whatever we can for the animals if there's any chance they can be healthy and happy and be adopted," Buxton said. "We will do whatever they need."
To that end, Operation Kindness also provides resources to pets in need who are already in community homes. The shelter operates a pet food pantry that provides temporary relief to people struggling to feed their cats and dogs.
Operation Kindness Veterinary Hospital also has a dedicated veterinarian who also works with the community. The non-profit organization works with the Spay Neuter Network to help provide basic veterinary care to community animals in need. Opération Gentillesse even provides veterinary care for 14 days after an animal has found a new home if necessary.
It's programs and elements of Operation Kindness like these that speak to some of the areas of concern that have emerged following a significant increase in pet ownership during the pandemic as well as the state current inflation in the country.
According the ASPCA, about one in five households bought a new pet during the pandemic. Today, as many businesses have returned to work and shelter in place in the past, the plight of these pets has become the subject of much media interest.
In a story last year, the Dallas Observer noted that pandemic-era pets were already flocking to shelters in the area, forcing some to reach capacity and become overcrowded. Although the ASPCA refuted this phenomenon nationally, there were certainly concerns in the North Texas region, to say the least. Operation Kindness currently sees a different underlying reasoning than what Buxton called some of the "anecdotal" explanations for this trend.
"We found that people during the pandemic, they spent a lot of time at home with their pets and they became very bonded during this time and provided a lot of companionship. So they weren't really looking to give them up once it was back to work and those kinds of things happened," Buxton said. Instead, she cited economic factors, job insecurity and changes in housing as some of the main factors causing people to give up on their pets.
"Really coming out of the pandemic, we're seeing this huge demand for animals in need that we haven't seen during the pandemic," Buxton said. "Now that everything has sort of reopened, we're seeing a very high demand for adoptions and services that we offer like our pet food pantry and those community services like vaccinations and neutering, so the demand is definitely out there."
Buxton noted that Operation Kindness is on track to see around 5,000 animals at its shelter this year and reach around 8,000 pets already in the local community through the organization's community initiative programs.
With this growing demand, Operation Kindness seeks to achieve what Buxton calls the organization's most ambitious goal to date. this north texas donation day, an annual fundraising event in the region. The nonprofit is looking to raise $300,000 during this year's Giving Day, having already raised just over $86,500 at the time of this writing in donations ahead of Giving Day. .
"This is our big goal that we have set for ourselves, as we help more animals and we ourselves feel the impact of inflation on the cost of supplies to run our shelter; our needs are greater than ever," Buxton said.
If you would like to help Operation Kindness, visit his North Texas Giving Day page for more information and details on how to donate.